Air freight: from Greenland to South Africa
Rest easy and rely on our decades of experience in the air freight industry.
Koch International air freight services make the world smaller and bring far-flung destinations within touching distance. We deliver your goods to the most important trading centres in the world, even if it is just across the road. We guarantee smooth processing and the fast delivery of your air freight to your customers. We develop customised air freight solutions for you and your industry so that your products reach their destination intact and on time – as you would expect from a logistics and air freight expert.
Air freight: standard, express, and door-to-door service?
Our tailored air freight concepts give you the benefit of speed and reliability.
Air freight express service.
Sometimes, goods just need to get to the recipient quickly. That's when our express service is what you need. Our network lets us make even the shortest timeframes a reality as we reliably transport your shipment to the destination.
Air freight standard service.
Our standard service is the cost-effective alternative to the express service, where the focus is on the freight rate. But the highest quality standards naturally still apply.
Air freight door-to-door service.
Want to transport your shipment from your company premises to the recipient's door? Our door-to-door service lets you enjoy an individual and comprehensive solution.
We would be pleased to advise you on which service package that meets your needs.
Air freight – charter flights, aggregated shipment, IATA direct shipment.
Whether individual parcels or several pallets – we make sure that your shipment finds space in the aircraft. Depending on the size of your goods, we offer aggregated shipment or can even charter an entire aircraft or reserve a section of an aircraft for you. Want your goods to be transported directly to your recipient without first passing through freight agents at the destination? Then our IATA direct shipment service is just what you need. Whatever the case, you can rest assured that Koch will get your freight to exactly where it needs to be.
Our services:
Preparation of the transport documents
Dangerous goods and packaging consulting
Customs clearance
Transport insurance
Onboard courier service
Active and passive refrigeration of temperature-controlled goods
Letter of credit processing
Track-and-Trace
Contact with the world's best air freight specialists
Selection of the optimum mode of transport
Flexible and reliable processing at all other German airports
World Cargo Alliance – 11,659 strong partners.
Koch International is a member of the global World Cargo Alliance (WCAworld) network. We work together with strong partners located all over the world to ensure smooth freight handling right to your customer's door – to every continent. The same high quality standards remain in place along the entire route and guarantee that your goods are handled with care and reach their destination intact.
Global air freight solutions.
Fast, safe and reliable from beginning to end – no matter which airport. Another benefit: As a logistics specialist with our headquarters in Osnabrück, we can offer you particularly fast and cost-effective import and export processing through the Münster/Osnabrück Airport (FMO), located just 41 km from our site for quick access. Thanks to our IATA licence (International Air Transport Association), we can process air freight directly with all renowned airlines.
Your benefits:
The right logistics services for your needs

Save time and frayed nerves by letting Koch International worry about all the important transport documents

Always speak directly with your personal Koch Service contact
And we are your competent contact partner for sea freight as well.
Packaging and more.
You can find everything you need to package your goods in our Packaging Shop. Easy. Clever.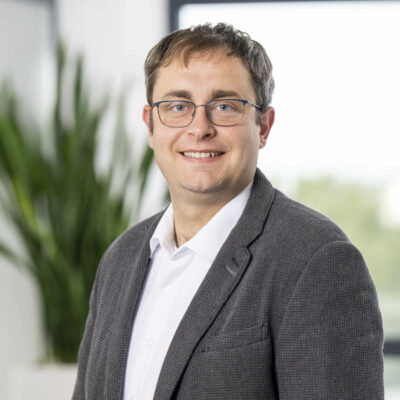 Can we assist you?
We are looking forward to receiving your inquiry.
Ralf Watermann
Vertrieb Interkontinental
What is the dimensional weight?

A practical size that is used to evaluate the costs of a shipment by air freight. The chargeable weight is the basis for calculating the freight rate.

How is the dimensional weight calculated?

(Length (cm) * Width (cm) * Height (cm)) / service provider-dependent divisor = Dimensional weight (kg) Common divisor = 6000 (166.7kg/m³); but parcel service providers often also use 5000 (200 kg/m³)

What weight is used as the basis for calculating the freight rate?

The "Actual Weight" is the physical weight of an air freight shipment, weighed and measured in kilograms (kg). To calculate the freight rate, the "Actual Weight" is compared against the calculation of the dimensional weight, also called the "chargeable weight", according to the dimensions. The higher weight figure is then used as the freight rate.

Can dangerous goods be transported by air freight?

Dangerous goods can fundamentally be transported by air. Certain legal requirements need to be observed when transporting dangerous goods by air. The Dangerous Goods Regulations (DGR) define the dangerous goods that can be transported by air and the conditions under which such transport is possible.

What documents are required for transporting dangerous goods by air?

Dangerous goods that are transported by air require a "Shipper's Declaration for Dangerous Goods" or "Dangerous Goods Declaration" (DGD). This declaration must contain all information about the dangerous goods, i.e. the dangerous goods class as well as all labelling information. Only qualified IATA personnel are permitted to complete the declaration, which they must also sign to release the dangerous goods for air freight.

How does air freight need to be packed?

In terms of the packaging, you need to make sure that it can withstand the specific stresses during the flight. As a guide, vertical impacts of three times the weight and vertical impacts of 1.5 times the weight of the parcel need to able to be absorbed. The packaging should also be stackable. During loading in the hold, the goods may be stacked on top of one another and should be able to withstand the pressure from above. Depending on the type of shipping selected, packaging always includes, for example, appropriate outer packaging, a pallet, appropriate inner packaging as well as secure closure, if applicable, edge protection, lashing straps and bubble wrap.

What documents are required for shipping via air freight?

To be supplied by you:
accompanying documents, such as the commercial invoice, shipping list, import licences or consular invoices. These depend on the provisions in the relevant countries.
In addition, an export accompanying document (EAD) is necessary for shipments with an invoice value of 1,000 euros or more or a weight of 1,000 kg or more. You can either prepare these independently or send a request to our colleagues from our Customs Team at zoll@koch-international.de to prepare an EAD. For dangerous goods: Shipper's Declaration for Dangerous Goods (DGD) and a safety data sheet (MSDS) (where available)
We provide the following for you:
Air waybill (AWB), which is internationally accepted as the sole accompanying document. It must be prepared in compliance with the IATA guidelines.
Other topics that might interest you: